TAIPEI INT`L INVENTION SHOW & TECHNOMART 09/29~10/01
05/10/16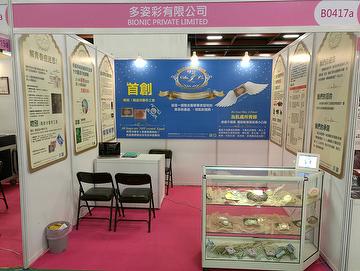 his is a Holistic Medical Specialist invented New Revolution Product --- "Anti -Acne Handcrafted Soap ".
This Soap not only inhibits Propionibacterium acnes. in acne but can also assist to end Propionibacterium acnes. that caused "Brain Abscesses Formation during Neurosurgery", "Prosthetic Valve Endocarditis with Abscess Formation" and " Pathogen in Implant-Associated Infections".( Journal showed)
We believe that natural is better, less is more. This newly invented soap is handcrafted and made from highest quality of certified organic food-grade vegetable oils , specially formulated organic essential oils and it's naturally high in glycerin.
This Soap never contains antimicrobial agents, artificial preservatives, or chemical additives, hardeners or lathering agents.
Specialty of the Soap is an "Astonished Design" with Duet Function :
1). Brown Soap Portion : Unclogged Pores & Balance Water /Oil content as well as Grimmy Stuff.
2) White Soap Portion : Highly Softening, Moisturizing as well as Conditioning Dry Skin
3) Brown ,White mixture Portion : Skin feels more Loved, Relaxed and Pampered.
We are proud of this invention. Select this affordable " Good- for- your- skin handcrafted soap designed to bring you a sense of luxury and increased pleasure without any drugs resistance.